Gas Blowers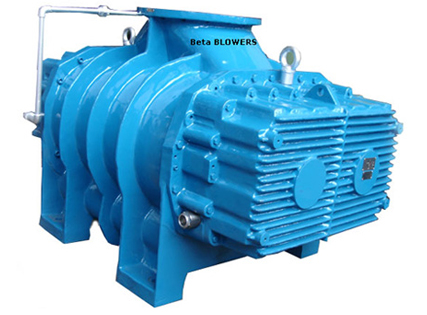 Beta also provides its Twin/Tri Lobe blowers for conveying/Boosting of various corrosive, non corrosive and flammable gases.
For handling inflammable and toxic gases like Biogas, Hydrogen etc, Beta engineered its blowers in such a way that the conveying of such gases remains leak proof to avoid any hazardous incident during its operation at site.
Basic design of the blowers is modified according to the nature of gas that needs to be handled. Special type of sealing arrangement and material of construction is provided in the blowers for its safe operation.
FEATURES:
Completely leak proof design
100% oil free air delivery
Anti Friction bearings
Precision ground and hardened steel gears are used to ensure smooth, silent running and accurate timing of the rotating impellers.
Suitable for handling air/gas
Dynamically balanced rotors as per ISO 1940/1,Gr. 6.3 to ensure vibration free operation
All machines are thoroughly tested for performance parameters as per BS-1571-Part-2 prior to dispatch
Improved volumetric efficiency and reduced operating temperature
Beta blowers have large shaft diameter comparative to many other manufacturers which keeps drive stresses low enabling increased operating pressures to be achieved without increasing blower size.
Both side oil splash lubrication