Twin-Lobe Compressors/Blowers: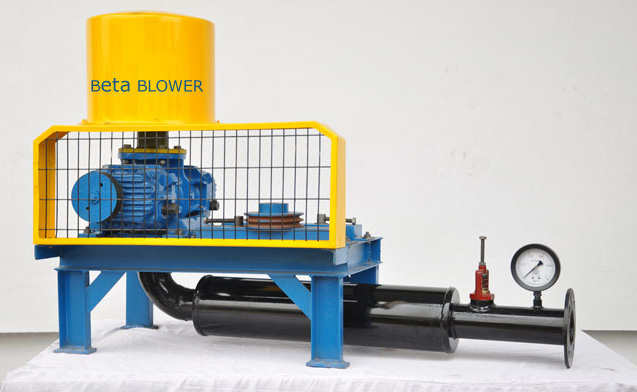 Beta provides a complete range of blowers having flow rate ranging from 10m3/hr to 15000 m3/hr for working pressure up to 1kg/cm2(10,000MMWC) in pressure applications and up to 0.5kg/cm2(5000MMWC) in Vacuum applications.
Beta Blowers are available as complete package units or as a bare blower unit for replacement of an existing blower.
Working Principle: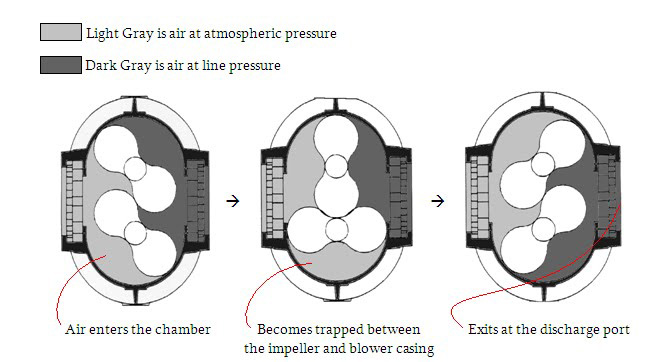 Twin-Lobe Compressors/Blowers are positive displacement units, whose pumping capacity is determined by size, operating speed and pressure conditions.It employs two Two-lobe (8 Shaped) impellers mounted on parallel shafts, rotating in opposite directions within a casing closed at the ends by side plates.Impellers rotation allows air into one side of the casing and forced out of the opposite side against the existing pressures. The differential pressure developed, therefore, depends upon the resistance of the connected system.
The Blowers, being positive displacement type, do not develop pressure within the casing but the discharge pressure depends upon the system resistance / back pressure. A pair of accurately machined alloy steel, hardened and ground timing gears maintain clearances between the impellers, during rotation.
The air, thus delivered, is 100% OILFREE
Features of Beta Make Twin Lobe Roots Blowers:
Superior product quality & robust design
100% oil free air delivery
Anti Friction bearings are used in every blower
Precision ground and hardened steel gears are used to ensure smooth, silent running and accurate timing of the rotating impellers.
Suitable for handling air/gas
Dynamically balanced rotors as per ISO 1940/1,Gr. 6.3 to ensure vibration free operation
All machines are thoroughly tested for performance parameters as per BS-1571-Part-2 prior to dispatch
Improved volumetric efficiency and reduced operating temperature
Beta blowers have large shaft diameter comparative to many other manufacturers which keeps drive stresses low enabling increased operating pressures to be achieved without increasing blower size.
Both side oil splash lubrication
Applications:
Chemical - Vacuum Processing & Conveying
STP,ETP & WTP aeration process
Silo Fluidization
Gas Boosting
Air Knife application in galvanizing plants
Centralized Vacuum cleaning systems
Dairy - Automated Milking
Environmental Services - Sewer Cleaning & Portable
Cement & Lime - Fluidization & Conveying
Resin & Plastic - Processing & Conveying
Process Gas - Gas Boosting
Soil Remediation - Vacuum Extraction & Sparging
Industrial - Material Vacuuming
Milling & Baking - Blending & Conveying
Dry Bulk Hauling - Trailer Unloading & Aeration
Power Generation - Fly Ash Conveying & Aeration
Pulp & Paper - Chip Conveying & Process Vacuum
Oil & Gas - Gas Collection & Sparging
Aquaculture – Aeration